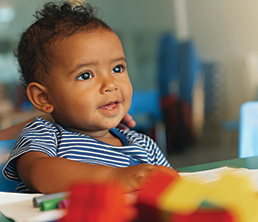 Infants
Our youngest learners range from 8 weeks to 18 months old.  For many families, the Infant program is their first experience with daycare.  Our staff work diligently to make this transition a smooth and happy one for all involved.  The Infant rooms provide a warm, nurturing environment where the individual needs of each baby can be met.  Infants are encouraged to explore in a safe environment using their five senses, copying simple actions and sounds of people around them, and exploring developmentally appropriate toys.
Individualized care plans to support feeding, sleeping, and other unique needs.
Sensory rich spaces for infants of all mobilities to explore
Highly qualified staff supporting the development of language development through repetitive sing-song talk
Toddlers
Our busiest learners range from 18 months to 3 years old.  The Toddler Rooms provide play experiences that are built around this age group's natural desire to push boundaries and their limitless curiosity.  At this age, staff are working with children to develop language, explore numbers and environmental print, build towards following simple instructions, engage in sensory exploration, and embrace the independence that comes with child-sized furniture.  When families are ready, staff are willing and prepared to also assist in potty training.
Flexible centers allow for Toddlers to explore play areas, develop a respect for classroom spaces, and practice new skills in all developmental domains
Children are able to exert their independence through decision making opportunities provided by the teaching staff
Connection will begin to be made in regard to colors, shapes, and emotions
.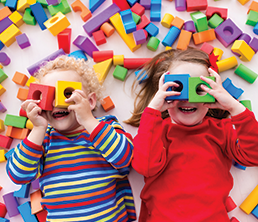 This school program continues to build on our infant/toddler curriculum and includes the beginnings of formal academic learning with emphasis on each child's readiness level and individual needs. Socialization skills, peer interaction, following directions, the development of independence, and enjoying the start of a more formal school setting are all part of our curriculum. These are years of tremendous growth and preparation. The children begin making "best friends" and sharing special times together. The language becomes much more interactive and directed. By the time the children complete this phase of our program, they are prepared for a successful entry into our pre-kindergarten program.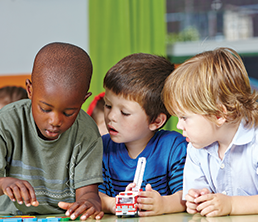 Our program is a unique approach to the traditional classroom setting. It is designed to meet the individual needs of children and to stimulate learning in all major developmental areas. Each child is viewed as an individual, with different levels of ability, development, and learning style. Through active exploration and interaction with their surroundings, the children develop readiness skills in math, reading, everyday life, sensory and whole language. The development of organization and social skills is also an important part of our program.
Windsor Academy is the longest operating Community Based Universal Pre-Kindergarten site in collaboration with the Newburgh Enlarged City School District for almost 20 years. We value our relationship with the district and our community.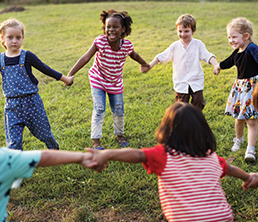 Our extended day school programs provide public school students with the opportunity to begin their day at Windsor Academy in a relaxing manner. The children spend time with their peers and are picked up by the school bus directly in front of our protected outdoor seating area. They are supervised at all times and begin their school day in a nurturing and supportive environment. At the end of their day, they are delivered back to Windsor Academy for Homework Club where all homework is supervised by our licensed staff in a separate quiet location. By the time parents arrive, all homework is completed. Except for our computer lab, we are an electronic free school. After homework is completed – children are involved in both indoor and outdoor activities that allow them to simply take a breath and enjoy their afternoon.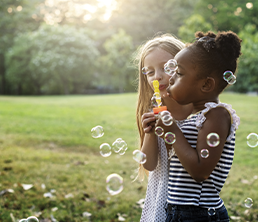 A variety of school programs are offered for our students during the summer. The program is open to public school children as well. During the summer, our elementary school teachers combine an academic review, enrichment, and preparation for September and incorporate art, music, computer lab, theater, dance, cooking, craft activities, physical education, water activities, field trips and other similar programs in the curriculum. Our Infant, Toddler, Preschool, and Pre-kindergarten classes continue as usual. We have much more flexibility in the summer and families have the opportunity to create their own schedule around vacations, work, and other commitments. The school continues to provide extended day coverage as well.