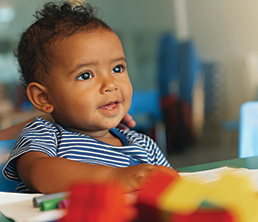 Infants
Our infant program takes place in a very nurturing, loving and safe environment. Our specially trained staff consistently adhere to our philosophy of how infants learn. Each personal interaction from mealtime to toileting to circle time activities that include music, movement, language, books, art, and self- discovery, establishes the foundation on which your child's continuing education is built.
Toddlers
The toddler program is a continuation of the activities begun in the Infant Room. Our children are exposed to a variety of experiences that stimulate healthy growth and development of not only their bodies but of their minds.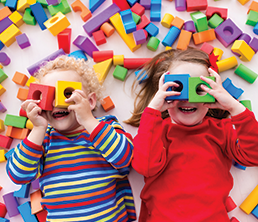 This school program continues to build on our infant/toddler curriculum and includes the beginnings of formal academic learning with emphasis on each child's readiness level and individual needs. Socialization skills, peer interaction, following directions, the development of independence, and enjoying the start of a more formal school setting are all part of our curriculum. These are years of tremendous growth and preparation. The children begin making "best friends" and sharing special times together. The language becomes much more interactive and directed. By the time the children complete this phase of our program, they are prepared for a successful entry into our pre-kindergarten program.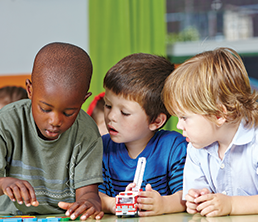 Our program is a unique approach to the traditional classroom setting. It is designed to meet the individual needs of children and to stimulate learning in all major developmental areas. Each child is viewed as an individual, with different levels of ability, development, and learning style. Through active exploration and interaction with their surroundings, the children develop readiness skills in math, reading, everyday life, sensory and whole language. The development of organization and social skills is also an important part of our program.
Windsor Academy is the longest operating Community Based Universal Pre-Kindergarten site in collaboration with the Newburgh Enlarged City School District for almost 20 years. We value our relationship with the district and our community.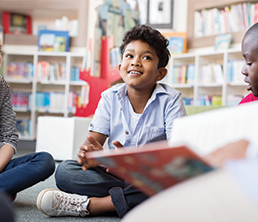 Our school programs are designed to meet each child's individual learning style and needs. Children learn in a variety of ways. Through the utilization of small class size, competent, imaginative and energetic professionals and support staff, and a curriculum that combines New York State's mandated syllabus with our ability to enrich and enhance all areas of development, we are able to appropriately provide students with the tools they need to become critical thinkers, eager to meet the challenges of a technological and global society.
We are able to facilitate all Distance Learning protocols for multiple surrounding districts. Our completely updated wi-fi systems throughout our site as well as our computer lab enable our students to fully participate in all district requirements.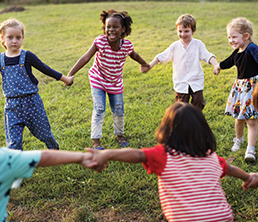 Our extended day school programs provide public school students with the opportunity to begin their day at Windsor Academy in a relaxing manner. The children spend time with their peers and are picked up by the school bus directly in front of our protected outdoor seating area. They are supervised at all times and begin their school day in a nurturing and supportive environment. At the end of their day, they are delivered back to Windsor Academy for Homework Club where all homework is supervised by our licensed staff in a separate quiet location. By the time parents arrive, all homework is completed. Except for our computer lab, we are an electronic free school. After homework is completed – children are involved in both indoor and outdoor activities that allow them to simply take a breath and enjoy their afternoon.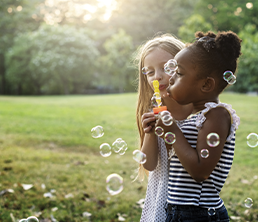 A variety of school programs are offered for our students during the summer. The program is open to public school children as well. During the summer, our elementary school teachers combine an academic review, enrichment, and preparation for September and incorporate art, music, computer lab, theater, dance, cooking, craft activities, physical education, water activities, field trips and other similar programs in the curriculum. Our Infant, Toddler, Preschool, and Pre-kindergarten classes continue as usual. We have much more flexibility in the summer and families have the opportunity to create their own schedule around vacations, work, and other commitments. The school continues to provide extended day coverage as well.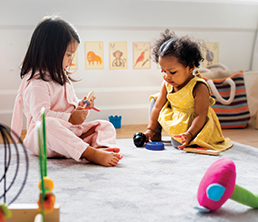 Windsor Academy is able to offer day care as part of corporate benefit packages in the community.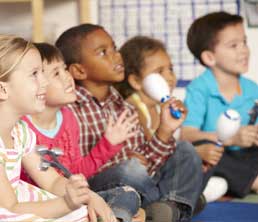 Art
The students are exposed to a variety of media and processes throughout their school programs. Their work is mounted and hung throughout the buildings. The message is simple – each child is valued and appreciated and celebrated – creativity and imagination are important aspects of every person's life. Our approach to art provides the children with lifelong lessons including appropriate risk taking, appreciation of each other's differences and the celebration of individuality through art. Pride in the process as well as the product are integral parts of the program.
Music
Our music program takes place for all the children in a dedicated music and movement room as well as in all the classrooms. In the music room, children have the opportunity to explore the use of different rhythm instruments and music. The wall of mirrors and ballet barre as well as gross motor options are all part of the process. Performances are held within the school setting and on stage during the year as well. Our children are able to maintain that comfort level and joy of music that we often only see in the very young. It is as natural to them as breathing.
Dance Design School – Cornwall
Our dance program is an optional opportunity offered to our students as young as two and a half years old. The dedicated room, complete with ballet barre and wall of mirrors, affords our students the chance to experience a gentle program that celebrates movement, music, and children. The program continues to develop self-confidence, the ability to follow directions and the joy of creativity as part of a group experience.
Physical Education
Our five outdoor play areas and a variety of parachutes, balls, scooters and other appropriate commercial playground equipment, enable all of our students to experience more formal physical education activities. In addition, we contract with Happy Buddah Yoga, Hong's Martial Arts School and Tumble Bus and offer optional on-site programs for all age groups. We utilize our outdoor playgrounds throughout the winter months with "snow" activities, complemented by our summer water programs. We have an indoor play area, which enables the children to be more active even during inclement weather. The children need to be moving and enjoying physical activity on a daily basis.  We ensure that they do.
Technology
Many of our classrooms have computers and developmentally appropriate programs. In addition, our computer lab consists of networked and protected equipment that offers the opportunity for individual and class instruction beginning in preschool to all our students. With our newly installed webcam systems – and our upgraded computers – our public school students are supported with their interactive assignments. The realities of the 21st century demand that all of our students are comfortable and prepared to integrate computer technology into their daily lives.
Language
Our cultural diversity among the staff enable the exposure to selected language opportunities throughout the year.
Cooking
Our well-stocked and easily accessible kitchen offers the opportunity for cooking activities as part of the daily curriculum for all of our students. Here the students are taught to read and follow directions, accurately measure, cooperate and collaborate on a project and produce a product that they can share with others and enjoy themselves. Of course, they are part of the clean-up process as well.
Library
Each classroom maintains an age appropriate library. The school also provides an extensive staff library for borrowing and use in the classrooms. We offer parent resource information and are able to access specific books for specific needs at any time. In a world of easy access to information via the computer, it is essential that our children continue to experience the joy of utilizing a library and being surrounded by books. Families are able to add to their own personal collections through our monthly Scholastic Book Order program as well as our Book Fairs.
Admissions
We invite families interested in Windsor Academy to contact us. You may call, fax, use our web site, write, or simply stop by for a visit. Although we are able to make appointments for a tour, our policy does not require that you do so.