Windsor Academy Educational Campus is a non-denominational private school located on the grounds of the old Windsor Estate on Route 94 in New Windsor, New York.
We hold state designation from the New York State Education Department as a non-public school and are certified as a fully licensed childcare and daycare center under the New York State Office of Children and Family Services. We are also Nationally Certified through NECPA – the National Early Childhood Program Accreditation program. We are one of the few private schools in Orange County that is both owned and directed by licensed educators with a combined total of more than seventy years of experience in the field. We hold the unique distinction of providing a complete educational program for children from six weeks of age through sixth grade.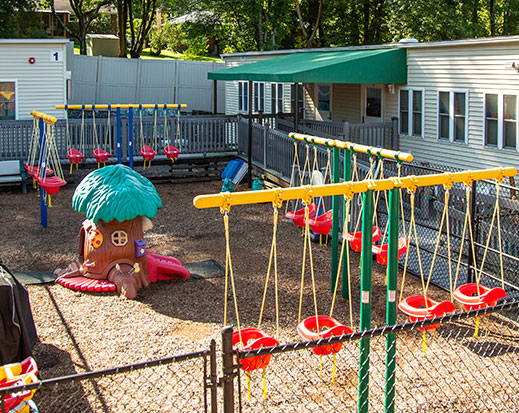 Windsor Academy is a Community School that offers resources and support not only to its students and families but is available to meet the variety of educational needs that may arise in the community in general.  We serve as an impartial advisor and resource team for anyone with educational concerns, as well as serving as a training center for students from local high schools and colleges.
In addition to the school year program, which runs from September through June, we offer a complete summer program, as well as morning and afternoon extended day programs for both our students and those from the public schools. We do not close during standard public school vacations and therefore also offer a relaxed activity schedule for those students who need care while their own school is closed.  As the public schools create hybrid teaching/learning models for their students, our private school is able to offer support and supervision for public school students.
Windsor Academy is a center for learning, with an emphasis on the Arts, Music, Foreign Language, Dance, Yoga, Theater, Physical Education, Library Research, and Computer Technology as integral parts of the entire academic day. Our small class size and highly trained staff create an environment that is both safe physically and emotionally for all our students. Interpersonal skills, problem solving, and the on-going quest for new knowledge is evident on all levels. Diversity is our strength both in student and staff populations. Mutual respect, awareness of others' needs, and involvement in our community all help prepare the students. We are participants in a number of Community Projects throughout the year and partner with many of our local charities and businesses. We utilize the resources of our community as part of our educational program, whether it's as visitors to local facilities or as a site for our neighbors to share their talents and training. Windsor Academy is a complete school that nourishes, protects, and celebrates our children's minds, bodies, and spirits.
Admissions
We invite families interested in Windsor Academy to contact us. You may call, fax, use our web site, write, or simply stop by for a visit. Although we are able to make appointments for a tour, our policy does not require that you do so.